Autumn is here and with it comes the cravings for our favorite fall flavors that season brings with it, like apples, pumpkin, and cinnamon. If you're craving a special fall treat this year (beyond a pillow case full of fun-size Snicker bars andTootsie rolls), take a gander at our list of 10 seasonal goodies below.
Apple Pie Caramel Apples
$39.99
A 4-count of Granny Smith apples comes smothered in delicious caramel and topped with cinnamon sugar.
Jelly Belly Fall Festival Mix – 9 oz Bag
$5.99
Lemon corn cobs, orange pumpkins, maple walnuts, and a candy corn mix of vanilla, chocolate and cinnamon make up this medley of fall inspired Jelly Belly jelly beans.
Free Shipping on $50 orders at JellyBelly.com!

Adagio Teas Holiday Sampler
$14
Flavors like Candy Apple, Pumpkin Spice and Gingerbread make up this gourmet tea Holiday Sampler, which can be ordered loose or packed within 30 teabags.
3 Lb Pumpkin Fudge Swirl Cheesecake
$37.86
Spicy pumpkin and chocolate fudge is swirled together and baked within a scrumptious gingerbread crust.
Fizzin' Apple Cider Fizzies Drink Tablets
$2.99
Drop one of the Fizzies Apple Cider drink tablets into a glass of water and it'll fizz into instant apple cider! It not only tastes good, but it's good for you, too: Each Fizzies tablet is sugar free and comes packed with Vitamin C!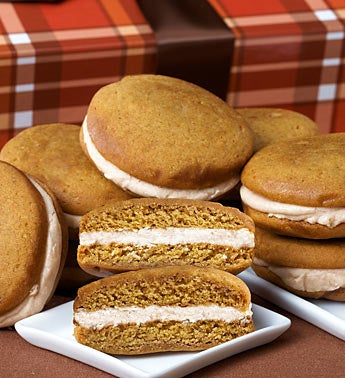 Cheryl's Cinnamon Pumpkin Whoopie Pies
$27.99
Tasty cinnamon pumpkin cookies are sandwiched together with creamy goodness in between. You'll receive 8 of these whoopie pies, which are wrapped individually and delivered in a plaid gift box tied with a satin bow.
Starbucks Gourmet Hot Cocoa
$17.39
Enjoy the great taste of Starbucks from the comfort of your home. Made from delicious Dutch cocoa, this box of mixes makes up 24 mugs of rich, chocolatey hot cocoa.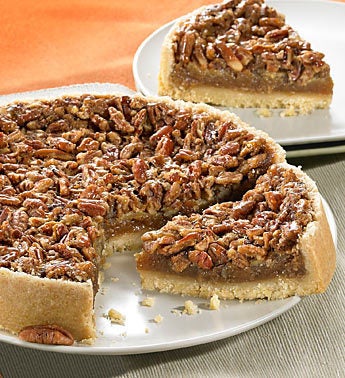 Decadent Bourbon Pecan Pie
$49.99
A cream cheese crust is filled with bourbon enhanced pralines in this pie, which is apparently so good that it's a top Staff Pick at 1-800Baskets.com.
Limited Edition Fall Flavors Coffee Variety Pack
$24.99
Featuring coffee from Gloria Jeans, Van Houtte and Donut House in flavors like Butter Toffee, Cinnamon, and Hazelnut, this limited edition variety coffee pack is designed for your Keurig coffee brewer. You'll get a total 2 of each of the 9 different flavors for a total of 18.
Free Super Saver Shipping on orders over $25 at Amazon.com
Half Dozen Hand-Dipped Autumn Berries
$24.99
6 yummy strawberries are hand-dipped in milk chocolate, white chocolate and dark chocolate, then topped with autumn-colored candies and chopped almonds.
What is your favorite fall treat?