In less than a few weeks I'll be headed home. When I say home, I mean my ocean dreams. Sure – home is also Utah and Arizona, where I spend a lot of my time at as well, but the ocean means so much more. For one, my love, aka the boyfriend BK lives there. Another? The ocean and all of its glory is there. I'm so excited to visit the ocean and have some fun and get some ocean dreaming in.
Instead of just laying out in the sand in a sizzling swimsuit, though, I want to explore other ways to enjoy the beach. This will include fun beach accessories, of course! There's plenty of great accessories to stock up on, including fun beach towels, umbrellas, portable beach mats, radio pillows, and more! Here are some accessories that have caught my eye and that I would definitely love to bring to the beach in the near future: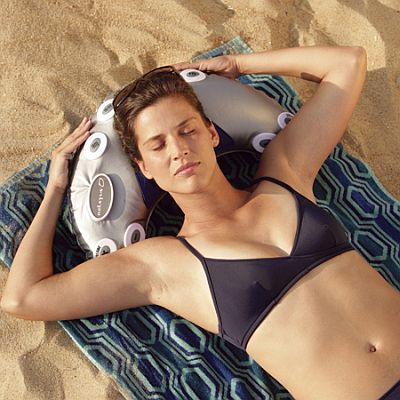 A beach radio pillow that will play lots of fun tunes will be the perfect beach accessory to bring along when visiting the ocean. Find your favorite radio station, lay back on your towel, and relax at the beach. I love that this accessory is comfortable to lay on and plays music simultaneously!
I can think of other fun activities you can use a beach radio pillow for as well. You can relax with a loved one or even get up and dance! I think it would also be great for a beach bonfire. Be creative and think of many reasons why a radio pillow would be a great addition to summer beach fun.
A portable beach mat is not only easy to carry, but it's versatile and convenient. Take along a beach mat and lounge around at the beach and when you're done – it will be easy to pack up.
A portable beach mat also comes in a variety of styles and colors – depending on your mood find a striped mat or a bright pink mat! You could even buy one that matches your bathing suit!
I definitely want to find a beach mat like this that would be perfect for lounging on.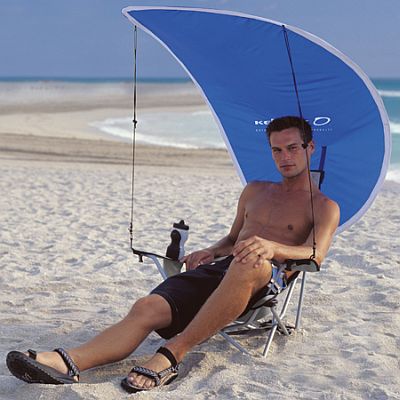 A chair canopy is yet another way to sit outside and enjoy the beach, except this will provide a shady retreat too! Enjoy the outdoors while being protected by the sun. A UV canopy will provide maximum protection from the sun and will be comfy to sit on as well.
I think this is such a great invention for the beach for those of us who don't want to get sunburned but still want to sit out and enjoy the beach. So bring along a book, a favorite magazine, and enjoy the ocean while sitting on a shady chair that's perfect for your outing!
Beach accessories are just the greatest, aren't they? Have you heard of an aerobie? It's a flying ring that's fantastic to have fun with at the beach. Throw it while you're in the water or out on the sand. I bought one for BK and I and we just love throwing this around at the beach! I highly recommend it.
Of course there's always an inflatable beach ball, beach umbrellas, and beach towels too. With so many beach accessories – I can't wait to go to the beach in a few weeks! Now, if only I could be there right now!
And as always, don't forget to search for coupons before you checkout, by the way. You can save some money on stocking up on your beach accessories.
What accessories do you want to buy first when you go to the beach?