Have you got a special someone in your life who loves good food as much as we do? And we don't just mean that they love eating good food, but cooking it too? Have we got some gift ideas for you!
Baker's Edge Brownie Pan
This creative pan is receiving mucho press for its inclusion on Oprah's "favorite things" episode. The pan's unique design ensures that every single brownie has two yummy, chewy edges. Includes a custom nylon spatula and a recipe insert.
Kitchen Aid Artisan Series Stand Mixer with Pouring Shield
This upscale mixer is a must-have for the serious chef's kitchen. You can get the mixer in almost any color, from white to bright red, but we're particularly partial to this fun, retro seafoam green. Includes wire whip, flat beater and dough hook mixer attachments, a two-piece pouring shield to minimize your mess, and a 5-quart stainless steel mixing bowl with handle.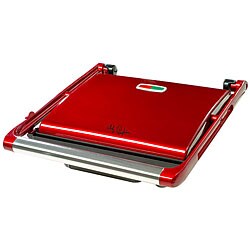 Chef Pepin Panini Maker
A panini maker at home will give even the most cooking-adverse foodie an opportunity to whip up creative sandwiches in a flash. There are a number of models and brands available, but this panini maker from the Chef Jacques Pepin line of kitchen equipment features a super-cool, sleek design and would be right at home in a modern kitchen.
Personalized Peppermill
Make it personal with this wooden peppermill, designed to mimic the shape of a wine bottle. The peppermill is crafted out of solid wood and can be personalized with one of four designs.