You've been waiting all year for the weather to nudge just far enough past 60 degrees that you can finally light up the grill and show off all of those amazing barbequing skills you picked up from DVRing Bobby Flay all winter (don't worry, it'll be our little secret.)
And while we can't help you perfect your secret sauce, we've got everything else you need to round out your cookout, including patio furniture, grills and more.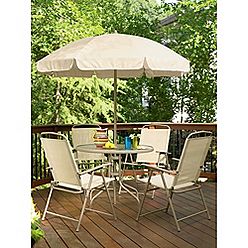 Essential Garden 6-piece Folding Patio Set
$129.99 ($124.99 after code KMSPRING)
$10 off $200 on patio furniture with code 10PATIOK
Outdoor Patio Honeylane Thick Woven 3-pc. Sectional Set
Reg. $799.00
Sale: $699.00 & Free Shipping
Kenmore 4-Burner LP Gas Grill
Reg Price: $269.99
Sale: $199.99 ($184.99 after $15 off savings)
Kenmore 4-Burner LP Mocha Gas Grill w/ Searing Burner
Reg Price: $349.99
Sale: $299.99 ($274.99 after $25 off savings)
More Coupons From These Stores:

Take $5 off a $50 purchase.
Use coupon code KMSPRING. Ends 4/16.
Take an extra $10 off a $200 on Patio.
Use coupon code 10PATIOK. Ends 4/2.
Take an extra $5 off a $50 purchase.
Use coupon code SEARS2011. Ends 12/31.
Take an $15-$25 off Outdoor Living & Patio orders $150 or more.
Ends 3/31.
Take an extra $10-$25 off Lawn & Garden orders of $100 or more.
Ends 3/31.
Free Delivery on featured Patio Furniture $249 or more and Grills $499 and more.
Save Up to 20% Off + Free Shipping on Select Patio Furniture.
Ends 5/14/11.