Today's official JoeShopping Blog post was written by Featured Blogger OceanDreams.
Ryan Gosling caught my attention in the film The Notebook, a soaring romance about a young couple that proved that for some young romance stories, a man and a woman are truly meant to be together. He sizzled and even stole his starlet's heart, Rachel McAdams, and they actually dated for some time after filming concluded. After this film not only did Ryan Gosling stay on my mind, but I was anxious for him to star in new roles!
To my delight, recently Ryan has been seen in multiple new roles such as in Crazy, Stupid, Love, which I absolutely loved him in. He's also starred in recent films such as Blue Valentine, Half Nelson, and Lars and the Real Girl. He's currently filming for a few new films that are scheduled to be released in the near future: The Place Beyond the Pines, The Gangster Squad and Only God Forgives. Catch him in two films that soon will be released, Drive and The Ides of March in September and October, respectively, of this year.
I'm excited to see Ryan in a bunch of new roles, because let's face it, I can never get over his good looks. Plus his acting is out of this world regardless.
Besides Ryan's new film opportunities, he always dresses like a man who knows his style. Perhaps guys could take a few pointers from Ryan while the women are simply content to drool. His style is preppy yet casual, which creates the perfect attire for a man on the go.
Though it's not exactly like Ryan's cardigan sweater, the v-neck and grey color are very similar in style for this cardigan. The Crooks and Castles Men's Knit Elite Medusa Cardigan would look very handsome on a man as he's headed out to golf or join up with the guys to play a game of poker.
My guess is that Ryan Gosling is also sporting a pair of 7 For All Mankind Jeans, which men now love. 7 Jeans are known for the Hollywood elite and this trend-setting brand has established itself as a modern classic. My dad even owns a pair!
Men can spruce up their posh outfit with a pair of black sunglasses that look like you are ready to hop on a motorcycle. Electric Men's Gauge Sunglasses are a stylish pair that have 100% UV Protection.
Why not wear a Kenneth Cole Belt that will look fantastic with men's 7 Jeans. This belt is made out of oil tan leather and conveniently is reversable to be either brown or black.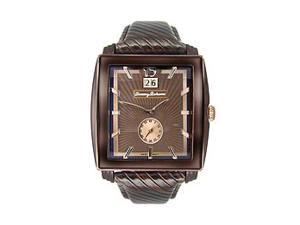 If you really desire the preppy and posh look, have your man snatch up this watch: Tommy Bahama Men's Cairo II Watch.
Not only does Ryan Gosling know how to act, but he knows how to dress. This dapper young actor will continue to steal the roles and steal the show with his dapper style. Now let's head to the theater and catch up on his latest film, Crazy, Stupid, Love and soon another film will be released: Drive. Let's drive on over to and catch up on one of his movies right now! While you are at it, you can look like Ryan too!
Today's official JoeShopping Blog post was written by Featured Blogger OceanDreams, a.k.a. Sierra. Sierra is an ocean dreamer who is a freelance writer, blogger and fashion addict. Some of her additional interests include excercising near the ocean, shopping, interior design, social media, Disneyland and more. You can catch Sierra on her blog Ocean Dreams and you can find her on Twitter at @oceandreams4u.