It's her birthday and you're ordering flowers to be delivered to your girlfriend at work. Sure, you could send the usual dozen roses, but with so many different options out there, why would you? Earn major brownie points with some of the affordable, off-the-beaten-path bouquets we came up with below. Not only will her coworkers be a little green with envy, but Dave from accounting might finally back off when he hears your babe gushing about the amazing boyfriend she has.

a-Dog-able Party Animal bouquet
Was: $49.99, Now: $42.49 after 15% off coupon HAPPYBDAY15
One look at the tiny puppy dog eyes on these unique floral arrangements will make even cat lovers say "awww!" The clever florists behind these adorable bouquets crafted fresh mini carnations to resemble precious little puppies. In 10 different styles (with more on the way!) including the pretty pink "Princess Paws" and "Pup-cake in Bloom", who comes nestled inside a reusable cupcake cup.
birthday brilliance
$49.99, Now: $44.99 after 10% off coupon 13S
Have your cake and eat it, too (without the guilt!) with this flower "cake" which features hot pink mini carnations and cheerful white daisies, complete with real birthday candles.
butterfly and bumble bee garden box
Was: $19.99, Now $12.74 after 15% off link
Think inside the box. Inside the garden box, that is. These decorative boxes contain seeds that'll bloom into flowers like Dahlias and Cosmos, which are designed to attract butterflies and bumblebees. And you don't need a green thumb to enjoy them. The seeds come wrapped in plantable, biodegrable tissue paper, making planting a snap.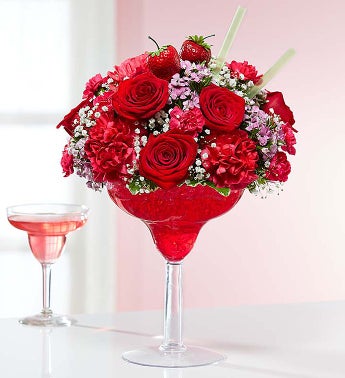 strawberry floral margarita
Was: $59.99, Now: $49.99 after $10 off coupon TENDOLLARS
It's 5 o'clock somewhere! You won't need to find your lost salt shaker of salt to enjoy this fruity concoction. Roses and carnations in pinks and reds come bundled inside a margarita glass, garnished with faux strawberries.
fresh flower flip flop
Was: $39.99, Now: $35.99 after 10% off coupon 13S
No surf and sand necessary to enjoy this bouquet! These brightly colored flowers come shaped in everyone's favorite beachy footwear, smelling of carnations and poms (and, thankfully, not feet!).