May is National Bike Month. Bike riding is a great way to get outdoors, get some exercise, and avoid the rising gas prices at the pump.

Below, we've found some good prices on bikes that'll get you and the whole family out and riding. So unleash your inner Lance Armstrong and have a ball!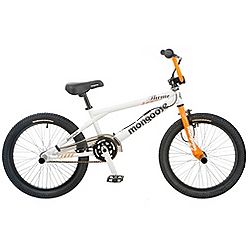 Mongoose Theme Boy's 20" Freestyle Bike
Was: $149.99
Sale: $99.99 ($94.99 after coupon code SEARS2011)

Girl's Mongoose Bubble Pop Sidewalk Bike – Pink (12″)
Was: $79.99
Sale: $63.99
26" Huffy Women's Cranbrook Cruiser/Comfort Mint Green Bike
$89.97 + Bonus $20 eGift Card
Schwinn Midmoor Men's Hybrid Bike (700c Wheels)
Was: $357.99
Sale: $233.74
More Coupons From These Stores:
Online Only – $5 off $50+ order.
Use coupon code SEARS2011. Ends 12/31/11.
Save 10% or more on select bicycles.