While I thoroughly enjoy action/adventure movies, I have to admit that it was more than just the promise of theatrical thrills that had me forking my hard earned cash over to see The Avengers this week. Put back the Milk Duds and Sno Caps, ladies. This movie is packed with enough eye candy to give you a toothache. Robert Downey Jr., Chris Evans, Chris Hemsworth, Mark Ruffalo, and bow carrying cutie Jeremy Renner, who gives even hunky Lord of the Rings Legolas a run for his money. *swoon*
But aside from enjoying the movie (and ogling the actors), I took more away from the movie than I anticipated. Other than learning that it seems like a terrible idea to ever move to New York City (seriously, doesn't it seem like NYC gets blown up or taken over by aliens in nearly every action or sci-fi movie?!), I was inspired by the characters and their costumes. As a cosmetic junkie, I often find makeup motivation and nail polish ideas in some of the most random places. Not one to shy away from vibrant color, glitter, or prints, I'm often influenced by the interesting things around me, whether it's the sparkling blue ocean I live beside or the amazing makeup artistry I find in magazines and movies.
While my nails don't even begin  to hold a candle to the ones below, here's my quick attempt at channeling The Hulk. With all of this bright green glitter, I think I'll call it Hulk Smash!
In this case, I was inspired by The Avengers, and as it turns out, I'm not alone. Much like the superheroes in the movie, these gals possess some extraordinary abilities of their own, by way of steady hands and truck loads of creativity. The Avengers-inspired nail art in these lacquered looks are 1 part geeky and 1 part girly, which makes for a heckuva combination! Although many nail polish companies release movie-inspired collections (like OPI's Spider-Man or Muppets sets), these girls mixed up their own colorful concoctions to create these manicure masterpieces. Let's scroll, shall we?
Image credit: JeeA Lee
Image credit: Oh My Nails
Image credit: nailsbeautiqued
Image credit: Rorabi
Image credit: Shizznizzle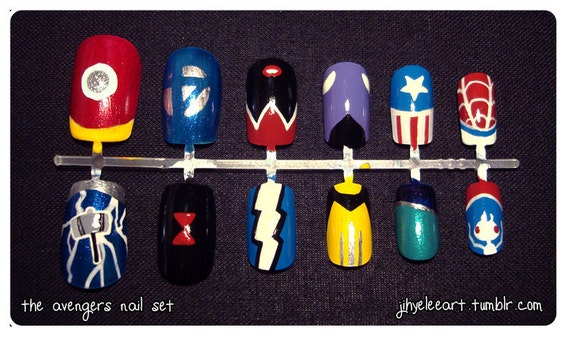 Image credit: jihyeleeart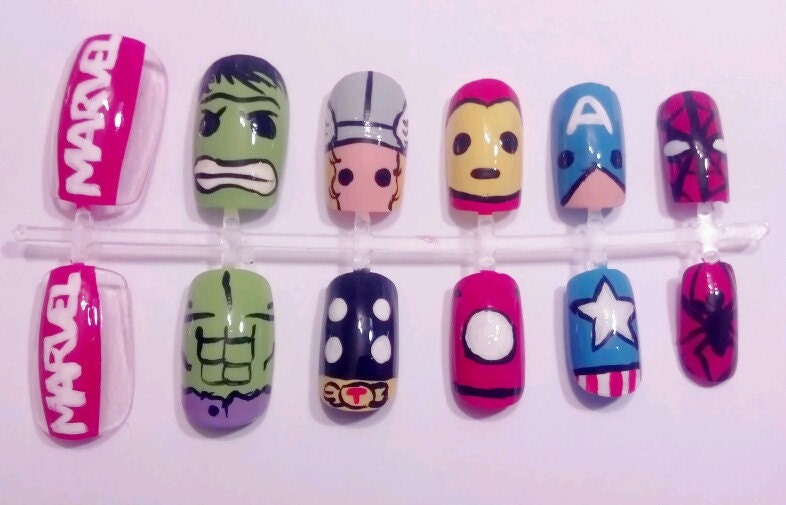 Image credit: marymars
Image credit: The Nailasaurus
Image credit: Nail Art Couture
Which Avengers nails are your favorite? Let me know in the comments below!
Image credit: broangeishere.tumblr.com