Remember when leg warmers were cool, when every John Cusack movie was a masterpiece, and when cartoons were on every Saturday morning? Yeah, we're talking about the "Bubble Gum" decade, also known as the '80s. And whether you're a fan of all things '80s pop culture, or know someone who is insanely obsessed, we've put together a totally tubular list of the 10 Greatest Gifts for '80s Fans.
The Making of Star Wars: The Empire Strikes Back ($84.99 MSRP)
J.W. Rinzer's massive, comprehensive book explores the making of the second Star Wars movie with interviews new and old, behind-the-scenes secrets and never-before-seen photographs.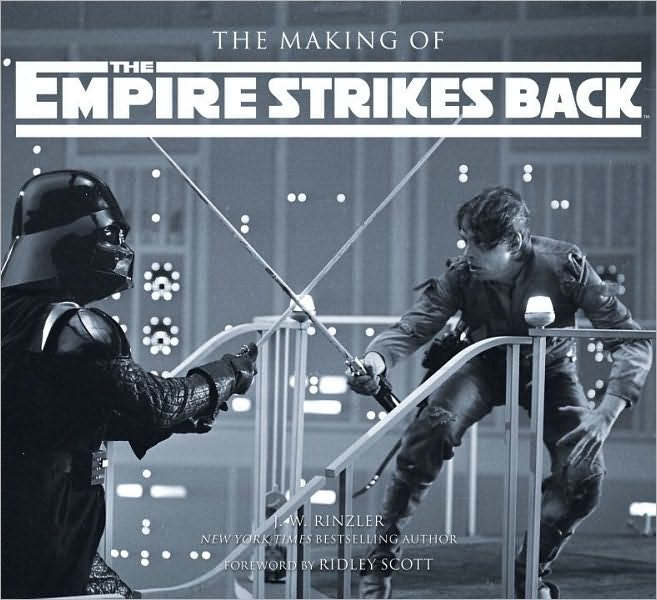 Scene It: '80s Deluxe Edition ($29.99 MSRP)
Test your knowledge of the '80s with this "tubular" version of the hit game. The DVD includes trivia and puzzles based on popular characters, music, news and events of that decade,which players must solve to advance around the board.
Transformers: War for Cybertron Videogame ($49.99 MSRP)
This summer's hit Xbox 360 and PlayStation 3 game is still a big seller, and it's easy to see why. The game explores the origins of the Transformers with plenty of nods to the original '80s cartoon, and players can choose to fight for the Autobots or the Decepticons.
DC vs Masters of the Universe Two-Packs ($29.99 MSRP)
Did you know that Superman once fought He-Man? It's true, in a special comic book. Mattel commemorates the clash between these two titans with a special action figure two-pack of fantastic updated figures of both Superman and He-Man. But don't forget about the villains; a Lex Luthor vs Skeletor set is also available!

Ghostbusters Proton Pack Backpack ($39.99 MSRP)
It won't help you trap any ghosts, but this comfy backpack is accurate enough to the Ghostbusters' proton packs from the movie that most spooks, spectres or ghosts will want to stay away. The "particle thrower" has a tiny pouch of its own, too!
The A-Team: The Complete Series Gift Set ($149.98 MSRP)
If you have a problem, if no one else can help, and if you can find them, maybe you can hire the A-Team. And if you want to watch the original A-Team in action, complete with Mr. T as B.A. Baracus, you definitely need this complete series DVD set, in a limited-edition package designed to look like the team's iconic van!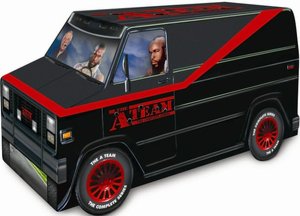 '80s Belt Buckles ($20-24 MSRP)
80stees.com has a wide variety of '80s-inspired ways to help hold your pants up, including belt buckles shaped like Pac-Man, the Thundercats logo, Atari, Transformers, classic Nintendo designs, DC superheroes and more. Display your affection for the neon decade with a buckle of your favorite pop culture icon!
My Other Ride Is a Lightcycle Shirt/Hoodie
The new Tron: Legacy movie coming out December 17 is getting all the buzz, but '80s fans will appreciate this apparel from Threadless.com and its nod to the outfits from the original Tron. It even glows in the dark!
Super Mario All-Stars: Limited Edition ($29.99 MSRP)
The original Super Mario Bros. game is 25 years old, and Nintendo celebrates the mushroom-collecting plumber and his quest to save Princess Toadstool with this amazing collection of all three original Super Mario Bros. games, which also includes The Lost Levels. It even has a special soundtrack and collectible booklet! The game will be released on December 12.
Back to the Future 25th Anniversary Blu-ray Set ($79.99 MSRP)
This special collector's edition of the classic movie trilogy contains countless extras, including outtakes, deleted scenes, a massive 6-part documentary, and even footage of the first actor cast as Marty McFly, Eric Stoltz! You won't believe how different the movie feels when you watch the scenes that Stoltz filmed.