The final installment in the Harry Potter films, Harry Potter and the Deathly Hallows Part 2, opens this Friday, but the wizardry doesn't ever have to end. Thanks to heavy merchandising, you can buy just about every Hogwarts- or Diagon Alley-related experience imaginable. (And you thought all you wanted were the books.) But this isn't just action figures and replica magic wands; this is Harry Potter we're talking about! Here then are the top 10 coolest and craziest Harry Potter products you never knew existed.

Hogwarts Acceptance Letter
Admit it, you've dreamed of opening your mailbox and discovering you're not just a muggle after all. The Warner Brothers Shop offers an oh-so-official Acceptance Letter to the Hogwarts School of Witchcraft and Wizardry, personalized with your name on it! It comes in your choice of American or British wording, so it's sure to please both Sorcerer's Stone and Philosopher's Stone fans. Now you can finally move out from under the stairs in your aunt and uncle's house!
Mirror of Erised
Albus Dumbledore said that he saw warm, woolen socks. Harry saw his parents. Who knows what you'll see in this replica of the Mirror of Erised? Just like the one tucked away in an empty classroom at Hogwarts, this one shows your heart's desire when you look into it, assuming your heart's desire is your own face.
Mad-Eye Moody's Patch
Brown elastic strap. Plastic eye socket chamber. Blue marble rollin' around. It's described by one product reviewer as "exceedingly horrible." We say it's exceedingly awesome. We're wearing one right now!
Monster Book of Monsters Plush
This is the cutest monster book we've ever seen. Okay, maybe it's the only monster book we've ever seen. But who wouldn't want to snuggle up with such adorable viciousness? Remember Hagrid's advice, back when he assigned this as the textbook for his Care of Magical Creatures course: Yeh've got to stroke 'em.
The Nimbus 2000
Modeled after Harry's first broom, this now-discontinued toy has made it onto many a "Worst Toys of All Time" list. Because, did we mention, it's a long, vibrating broomstick… for children. Check out Ebay and get one for the special, grown-up wizard or witch in your life.
Cockroach Clusters
Speaking of discontinued items, can you believe they stopped making these delicious, crunchy candies? You thought earwax flavored jellybeans were revolting, right? The manufacturer's website boasts, "These delectable critters want to lay eggs and nest in your mouth." Yum! Never fear, they're still available on Ebay.
Harry Potter: A Pop-Up Book: Based on the Film Phenomenon
Do you really want to use just your imagination to try and bring the words in a book to life? Of course not! The new Harry Potter Pop-Up Book features original artwork by the concept artist for all eight movies. The book has five pop-ups featuring some of the most classic settings from the films, including Diagon Alley, Hogwarts and the Quidditch pitch, which are accompanied by smaller side pop-ups and interactive features. Watching the images pop off the page will truly seem magical! (Well, if you're, like, under four and haven't seen a movie before.)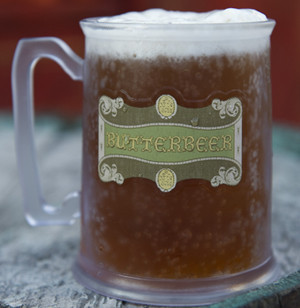 Butter Beer
That's right, butter beer exists, and with J.K. Rowling's stamp of approval, you know it's the real deal. You don't have to use the last of your Floo powder to get to Hogsmeade Village for a pint. It's available at Islands of Adventure in Universal Orlando. But if you can't make it to Florida, you could always try your hand at potions at home with the Harry Potter Iced Pumpkin Drink Maker Set. (NOTE: Since this product is from 2002, the included Drink Mix may have expired, setting the stage for some truly interesting home-brewed potions!)
Invisibility Cloak
If your Lando Calrissian cape has seen better days, think about investing in this lovely, hand-embroidered Cloak of Invisibility. WARNING: Does not render the wearer invisible. For that you'll need imagination. Or you can wait a few years for those fine physicists at the University of Birmingham to fully develop a real cloak of invisibility. For now it's just a block of calcite, but soon, we'll be scaring the crap out of our friends and family all the time.
Hogwarts Castle
They say that the look of Hogwarts is based on St. Andrew's University in Scotland. If you're not posh enough to study there, you can always buy this 16-pound Hogwarts porcelain replica, which features incredibly intricate details. Or, if you have a few extra quid to spare, you can buy your own Scottish castle and try some Live Action Role Playing, Potter-style!
HARRY POTTER, characters, names and related indicia are trademarks of and © Warner Bros. Entertainment Inc. Harry Potter Publishing Rights © JKR. © 2011 Universal Orlando Resort. All rights reserved.