Today's official JoeShopping Blog post was written by Featured Blogger OceanDreams.
I admit, I go a little bit overboard when it comes to buying Christmas presents. I love to brainstorm what I should get for each person and I always think of more gifts to give them even up to the last minute before Christmas! I'm the same way with my boyfriend. He always tells me not to go overboard, but what do I do? I do the complete opposite. Matter of fact, I shouldn't be admitting this, but I already have 10 gifts for my boyfriend. You heard me right. TEN. The poor guy always feels bad because he can't compete with my shopping skills, ha ha.

I realize that not everyone loves to shop like I do. Maybe you even find it painful. I hope not though because I think it's so much fun (in my opinion anyway)! So I thought I would share some ideas and let you know what I've purchased for my boyfriend so far. Maybe you can come up with some clever ideas on your own on what to get your significant other as well.
1. What will win over most men's hearts? Good ol' chocolate.
I love chocolate so much that I had to wrap this already so I wouldn't eat it! I love the clever design. If a man loves tools and chocolate, then you've got yourself the perfect gift.
You can find this 4 Piece Chocolate Tool Gift Set on JoeShopping and choose from silver or gold wrapping! The box also can be imprinted if you want to add a special touch.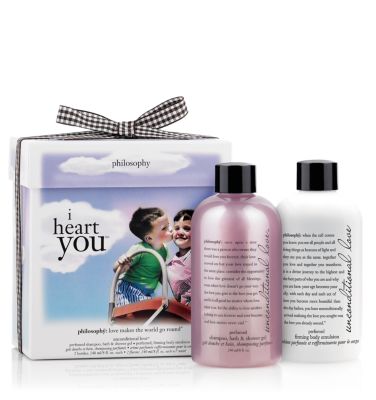 2. If you are feeling slightly sentimental, get your man a gift set.
Even though Philosophy seems like a woman's gift, I think it can be a man's gift too. The scent is not over powering so it works just as well for a man. Plus, I happen to think the packaging on this gift set is adorable. It says "I Heart You." If you heart your boyfriend, why not get him a pretty cute gift letting him know?
Philosophy I Heart You comes with shampoo, bath and shower gel, and firming body emulsion. I think your boyfriend will probabaly appreciate the words just as much as the yummy products inside.
3. Keep your boyfriend warm during the winter and gift him with a long sleeve shirt.
I actually purchased two long sleeve tops for my boyfriend. It's nice when I can pick out his style even though I think he does a great job on his own.
This Patagonia Men's Midweight Long Sleeve Crew Neck Shirt is made with polyester and knit, which makes it super cozy and warm.
I think men are great at picking short sleeve shirts, but what about long sleeve shirts? Update his wardrobe now!
4. You can never go wrong with a calendar, right?
Depending on his personality, buy him a calendar you know he'll enjoy hanging up in his office or home. My boyfriend and I love the beach so I got him an ocean-themed calendar. Also, let's be honest. I wanted to remind him to take me on a tropical vacation sometime in the coming year. At least I'm hoping that happens. Ha ha!
Enjoy an Ocean View 2012 Calendar with stunning sites. Maybe it will inspire you to soak up nature more or just give you a relaxing moment as you pause during the day and glance at the ocean photo of the month.
I hope I provided some ideas for you to shop for your significant other this holiday season. Besides all of the goodies for Christmas, remember to cherish the person and be thankful for them all year round. Because I'm a sap, I have to take the time to say that this is what really matters.
Today's official JoeShopping Blog post was written by Featured Blogger OceanDreams, a.k.a. Sierra. Sierra is an ocean dreamer who is a freelance writer, blogger and fashion addict. Some of her additional interests include excercising near the ocean, shopping, interior design, social media, Disneyland and more. You can catch Sierra on her blog Ocean Dreams and you can find her on Twitter at @oceandreams4u.